Auricularia delicata (Mont. ex Fr.) Henn.
First published in Bot. Jb., 17: 492 (1893)
This species is accepted
This species is found in Congo, Fiji, South America, Australia, North America and China. It is used to treat digestive system disorders, other medicinal disorders and fever, as animal food and for food.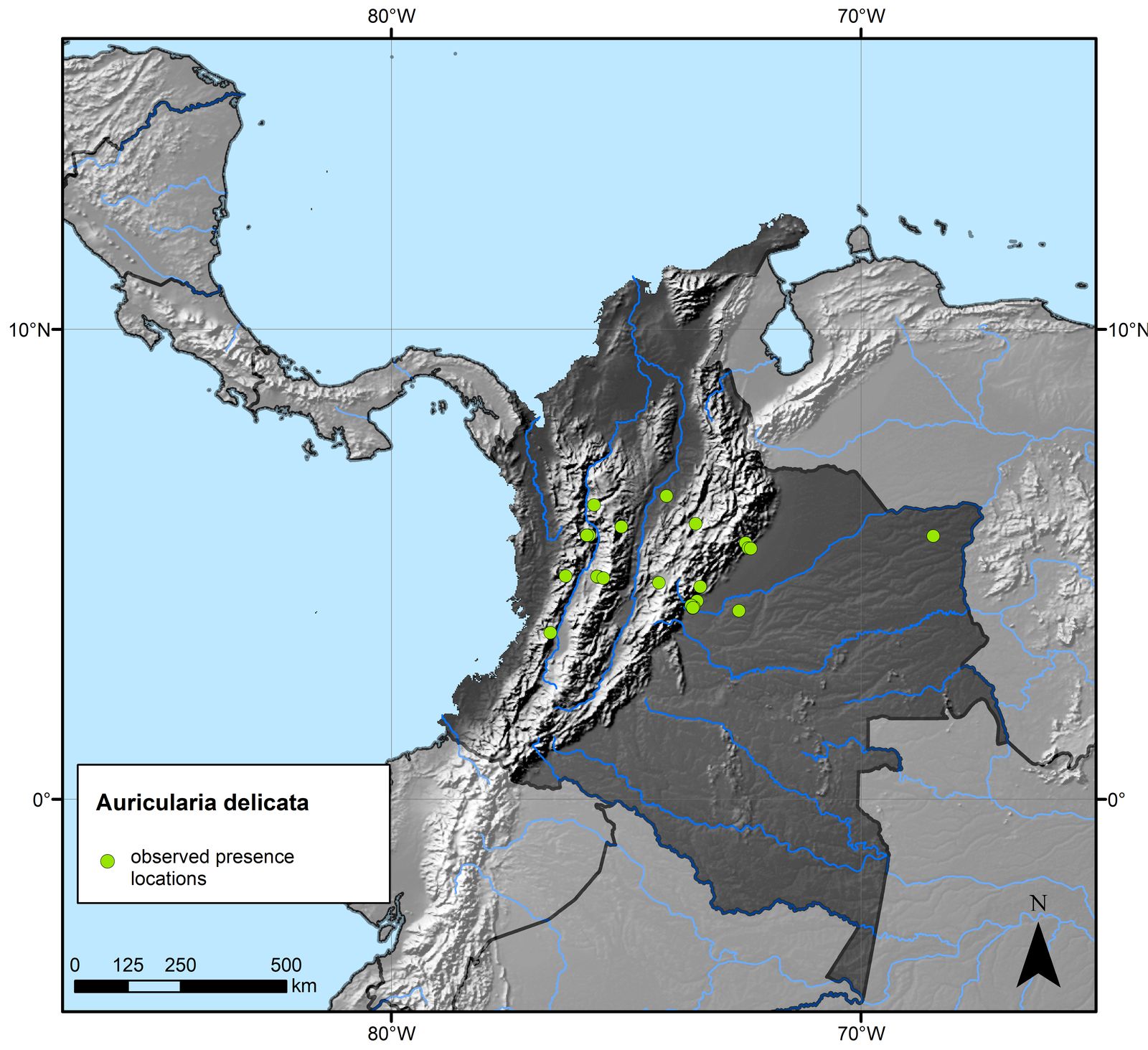 Distribution
Present in:
Argentina Northeast, Argentina Northwest, Argentina South, Australia, Bolivia, Brazil, China, Colombia, Congo, Costa Rica, Cuba, Dominican Republic, Ecuador, Fiji, Guatemala, Guyana, Haiti, Honduras, Jamaica, Mexico, North-Central U.S.A., Northeastern U.S.A., Northwestern U.S.A., Panama, Peru, Puerto Rico, South-Central U.S.A., Southeastern U.S.A., Southwestern U.S.A., Trinidad-Tobago, Venezuela
Publications
Catalogue of Fungi of Colombia
Bautista-Gonzalez, J.A., Moreno-Fuentes, A. (2014). Los hongos medicinales de México. Pp: 145–176. En: Moreno-Fuentes A, Garibay-Orijel R (eds). La Etnomicología en México. Estado del Arte-Red de Etnoecología y Patrimonio Biocultural (CONACyT). México D. F.: Universidad Autonoma del Estado de Hidalgo- Instituto de Biología (UNAM)-Sociedad Mexicana de Micología-Asociación Etnobiológica Mexicana-Grupo Interdisciplinario para el desarrollo de la Etnomicología en México-Sociedad Latinoamericana de Etnobiología.
Dennis, R. W. (1970) Fungus Flora of Venezuela and Adjacent Countries. Kew Bulletin Additional Series, III. Royal Botanic Gardens.
Franco-Molano, A. E., Vasco-Palacios, A.M., López-Quintero, C.A., & Boekhout, T. (2005) Macrohongos de la región del Medio Caquetá - Colombia: guía de campo. Medellín, Colombia: Universidad de Antioquia. 211 p.
Garibay-Orijel, R., Ruan-Soto, F. (2014). Listado de los Hongos silvestres consumidos como alimento tradicional en México. Pp 91-109. En: Moreno-Fuentes A, Garibay-Orijel R (eds). La Etnomicología en México. Estado del Arte-Red de Etnoecología y Patrimonio Biocultural (CONACyT). México D. F.: Universidad Autonoma del Estado de Hidalgo- Instituto de Biología (UNAM)-Sociedad Mexicana de Micología-Asociación Etnobiológica Mexicana-Grupo Interdisciplinario para el desarrollo de la Etnomicología en México-Sociedad Latinoamericana de Etnobiología. México, D.F. 243 p.
Guzmán, G., & Varela, L. (1978) Hongos de Colombia. III. Observaciones sobre los hongos, liquenes y mixomicetos de Colombia. Caldasia, 12, 309–338.
Lowy, B. (1952). The Genus Auricularia. Mycologia, 44(5), 656–692.
Melgarejo, E. (2014). Dos hongos silvestres comestibles de la localidad de Incachaca, Cochabamba (Yungas de Bolivia). Acta Nova, 6, 1683–0768.
Montoya-Alvarez, A. F., Hayakawa, H., Minamya, Y., Fukuda, T., López-Quintero, C. A., & Franco-Molano, A. E. (2011). Phylogenetic relationships and review of the species of Auricularia (Fungi: Basidiomycetes) in Colombia. Caldasia, 33(1), 55–66.
MyCoPortal (2020). Mycology Collections data Portal. Recuperado de: http://mycoportal.org/portal/index.php. Consultado en Mayo- Diciembre 2020.
Soto-Medina, E., & Bolaños-Rojas, A. C. (2013). Hongos macroscópicos en un bosque de niebla intervenido, vereda Chicoral, Valle del Cauca, Colombia. Biota Colombiana, 14 (2), 1–12.
The Global Fungal Red List Initiative (2020). Disponible en: http://iucn.ekoo.se/en/iucn/welcome. Consultado en Agosto 2020.
Vasco-Palacios, A. M., & Franco-Molano, A. E. (2013) Diversity of Colombian macrofungi (Ascomycota - Basidiomycota). Mycotaxon 121: 1-58. http://mycotaxon.com/resources/checklists/VascoPalacios-v121-checklist.pdf
Vasco-Palacios, A. M., Franco-Molano, A. E., López-Quintero, C.A., & Boekhout, T. (2005) Macromicetes (ascomycota, basidiomycota) de la región del medio Caquetá, departamentos de Caquetá y Amazonas (Colombia). Biota Colombiana, 14, 127–140.
Vasco-Palacios, A. M., Suaza, S. C., Castaño-Betancur, M., & Franco-Molano, A. E. (2008). Conocimiento etnoecólogico de los hongos entre los indígenas Uitoto, Muinane y Andoke de la Amazonía Colombiana. Acta Amazonica, 38(1), 17–28. https://doi.org/10.1590/S0044-59672008000100004
Other Data
Other Kew resources that provide information on this taxon:
Sources
Catalogue of Fungi of Colombia

© Copyright 2021 Useful Plants and Fungi of Colombia http://creativecommons.org/licenses/by/3.0
© Copyright 2021 Index Fungorum Partnership. http://creativecommons.org/licenses/by/3.0
https://creativecommons.org/licenses/by/4.0/
http://creativecommons.org/licenses/by-nc-sa/3.0