This species has a subcosmopolitan distribution, found across the Americas, in Europe, Africa, SE Asia, Australia, and Oceania. In Colombia it occurs at altitudes between 200–2800 m. It is a saprotrophic species found on decaying wood, for instance in oak forest, tropical forest and in chagras. It is used to treat medical disorders and as food. Enzymes extracted from the mycelium have potential applications in decolourisation technology.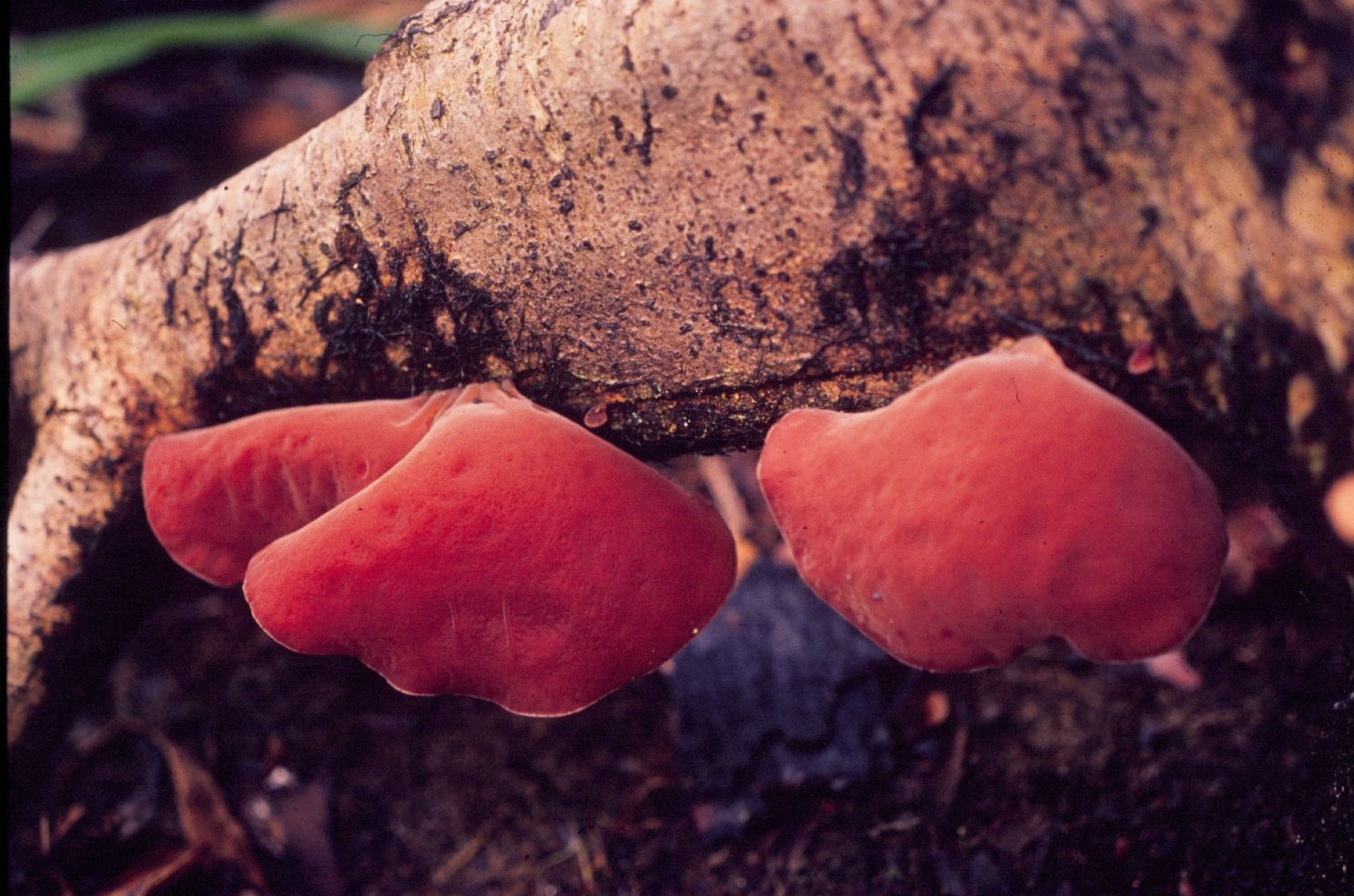 [CFC]
Conservation

Species proposed. Threats have been recorded in Brazil in the Atlantic forest, considered a diversity hotspot.

Distribution

Pantropical. In Colombia found in: Quibdó (Chocó), Buenos Aires (Antioquia), Dagua (Valle del Cauca), Cali (Valle del Cauca), Fredonia (Antioquia), Pauna (Boyacá), San Cayetano (Cundinamarca), El Tambo (Cauca), San Luis (Antioquia), Tarazá (Antioquia), Jardín (Antioquia), Medellín (Antioquia), Santo Domingo (Antioquia), Puerto Triunfo (Antioquia), La Mesa (Cundinamarca), Solano (Caquetá), Andes (Antioquia). Alt. 200–2800 m.

Ecology

Undefined saprotroph. It grows on decaying wood, in oak forest, in tropical forest, in chagras.

Morphology

Gregarious. Cespitose. Basidiome: 4–13 cm wide, auriculiform to reniform, gelatinous, translucid brownish pink to reddish brown, substipitate. Superior surface: velutinous, with uplifted margin. Inferior surface: smooth to plicate. Transverse section with medullary layer.

Vernacular

Hongo gelatinoso, Oreja de venado. Used by Uitoto people.
[CFC]
Use

Part used: Mycelium. Enzymes. This species has the ability to decolourise Azure B and Coomassie Blue in solid media, with potential application in decolourisation technology.

Use

Food

Mushrooms

Part used: Basidiome. In Colombia used by Uitoto and other amazon indigenous people. Uitoto cook them in fish broth, with meat, maraca seeds and mafafa leaves. Part used: Basidiome. Auricularia fuscosuccinea is used by rural communities in Pauna (Boyacá) where it is cooked and served with chili. Part used: Basidiome. Reported as edible in a list of fungal species from the department of Valle del Cauca. Part used: Basidiome. Reported as edible in Mexico.

Use

Medicines

Other Medicinal Disorders

Part used: Basidiome. Used as medicine in Mexico for anxiety, fatigue, gastrointestinal disorders, as a febrifuge, for gout, as a purgative, for colds. In Colombia there are no uses reported in this category.
Present in:
Argentina Northeast, Argentina Northwest, Argentina South, Australia, Colombia, Guyana, North-Central U.S.A., Northeastern U.S.A., Northwestern U.S.A., Philippines, South-Central U.S.A., Southeastern U.S.A., Southwestern U.S.A.
First published in Bot. Jb., 17: 19 (1893)
Literature
Catalogue of Fungi of Colombia
Arboleda, C., Mejía, A. I., Franco-Molano, A. E., Jiménez, G. A., & Penninckx, M. J. (2008). Autochthonous white rot fungi from the tropical forest of Colombia for dye decolourisation and ligninolytic enzymes production. Sydowia, 60(2), 165–180.
Bautista-Gonzalez, J.A., Moreno-Fuentes, A. (2014). Los hongos medicinales de México. Pp: 145–176. En: Moreno-Fuentes A, Garibay-Orijel R (eds). La Etnomicología en México. Estado del Arte-Red de Etnoecología y Patrimonio Biocultural (CONACyT). México D. F.: Universidad Autonoma del Estado de Hidalgo- Instituto de Biología (UNAM)-Sociedad Mexicana de Micología-Asociación Etnobiológica Mexicana-Grupo Interdisciplinario para el desarrollo de la Etnomicología en México-Sociedad Latinoamericana de Etnobiología.
Bolaños, A.C., Soto Medina, E. (2011) Macrohongos Comestibles y Medicinales Comunes en la Vegetación de la Universidad del Valle, Colombia. Revista de Ciencias, 15, 31–38. https://doi.org/10.25100/rc.v15i0.515
Franco-Molano, A. E., Aldana, R., & Halling, R. (2000) Setas de Colombia. Guía de campo. Medellín, Colombia: Universidad de Antioquía. 156 p.
Franco-Molano, A. E., Vasco-Palacios, A.M., López-Quintero, C.A., & Boekhout, T. (2005) Macrohongos de la región del Medio Caquetá - Colombia: guía de campo. Medellín, Colombia: Universidad de Antioquia. 211 p.
Garibay-Orijel, R., Ruan-Soto, F. (2014). Listado de los Hongos silvestres consumidos como alimento tradicional en México. Pp 91-109. En: Moreno-Fuentes A, Garibay-Orijel R (eds). La Etnomicología en México. Estado del Arte-Red de Etnoecología y Patrimonio Biocultural (CONACyT). México D. F.: Universidad Autonoma del Estado de Hidalgo- Instituto de Biología (UNAM)-Sociedad Mexicana de Micología-Asociación Etnobiológica Mexicana-Grupo Interdisciplinario para el desarrollo de la Etnomicología en México-Sociedad Latinoamericana de Etnobiología. México, D.F. 243 p.
Guzmán, G., Torres, M. G., Ramírez-Guillén, F., & Ríos-Hurtado, A. (2004) Introducción al Conocimiento de los Macromicetos del Chocó, Colombia. Revista Mexicana de Micología, 19, 33–43.
López-Quintero, C. A., Straatsma, G., Franco-Molano, A. E., & Boekhout, T. (2012). Macrofungal diversity in Colombian Amazon forests varies with regions and regimes of disturbance. Biodiversity and Conservation, 21(9), 2221–2243. https://doi.org/10.1007/s10531-012-0280-8
López-Quintero, C., Vasco-Palacios, A., & Franco-Molano, A. E. (2007) Capítulo 3: Macrohongos de un bosque de roble, Quercus humboldtii Bonpl., en la vereda Contrafuerte, municipio de Andes (Colombia). Pp 21–34. En: Naranjo, G. D. (ed). Reserva Natural Regional Cuchilla Jardín Támesis Antioquia: una mirada a su biodiversidad. Medellín, Colombia: Red de Investigación en Biodiversidad y Conservación –Redbio, Corporación Autónoma Regional del Centro de Antioquía.
López-Quintero, C., Vasco-Palacios, A., & Franco-Molano, A. E. (2011) Nuevos Registros de Macromicetes Colombia I. Macromicetes Colectados en Zonas Urbanas de Medellín (Antioquia). Actualidades Biológicas, 33 (95), 261–274.
Montoya-Alvarez, A. F., Hayakawa, H., Minamya, Y., Fukuda, T., López-Quintero, C. A., & Franco-Molano, A. E. (2011). Phylogenetic relationships and review of the species of Auricularia (Fungi: Basidiomycetes) in Colombia. Caldasia, 33(1), 55–66.
MyCoPortal (2020). Mycology Collections data Portal. Recuperado de: http://mycoportal.org/portal/index.php. Consultado en Mayo- Diciembre 2020.
Nguyen, N.H., Song, Z., Bates, S.T., Branco, S., Tedersoo, L., Menke, J., Schilling, J.S. and Kennedy, P.G., 2016. FUNGuild: an open annotation tool for parsing fungal community datasets by ecological guild. Fungal Ecology, 20, pp.241-248.
Peña-Cañón, E. R., & Henao-Mejía, L. G. (2014) Conocimiento y uso tradicional de hongos silvestres de las comunidades campesinas asociadas a bosques de roble (Quercus humboldtii) en la zona de influencia de la Laguna de Fúquene, Andes Nororientales. Etnobiología, 12, 28–40.
The Global Fungal Red List Initiative (2020). Disponible en: http://iucn.ekoo.se/en/iucn/welcome. Consultado en Agosto 2020.
Vasco-Palacios, A. M., & Franco-Molano, A. E. (2013) Diversity of Colombian macrofungi (Ascomycota - Basidiomycota). Mycotaxon 121: 1-58. http://mycotaxon.com/resources/checklists/VascoPalacios-v121-checklist.pdf
Catalogue of Fungi of Colombia
© Copyright 2021 Useful Plants and Fungi of Colombia http://creativecommons.org/licenses/by/3.0
© Copyright 2021 Index Fungorum Partnership. http://creativecommons.org/licenses/by/3.0
https://creativecommons.org/licenses/by-nc-sa/3.0/
http://creativecommons.org/licenses/by-nc-sa/3.0