Agaricus campestris L.
First published in Sp. pl., 2: 1173 (1753)
This species is accepted
This species is found in Europe, India, South America, North America, Australasia and Japan. It is used for food.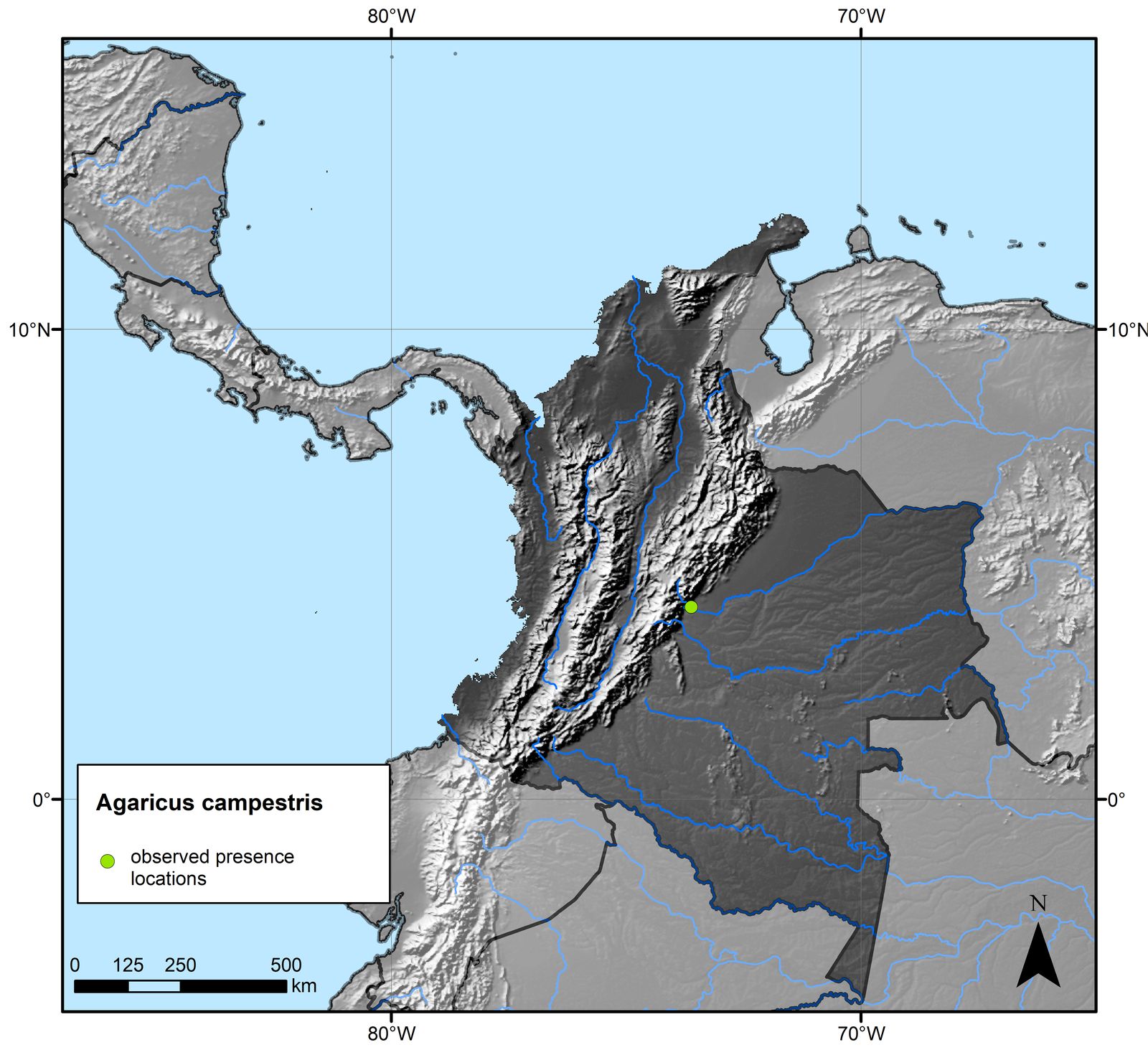 Distribution
Present in:
Australia, Chile Central, Chile North, Chile South, Colombia, Cuba, Czechoslovakia, Denmark, Eastern Canada, France, Germany, Great Britain, Hungary, India, Italy, Japan, Mexico, New Zealand, North-Central U.S.A., Northeastern U.S.A., Northern Ireland, Northwestern U.S.A., Norway, Poland, Slovenia, South-Central U.S.A., Southeastern U.S.A., Southwestern U.S.A., Sweden, Uruguay, Western Canada
Publications
Catalogue of Fungi of Colombia
IUCN (2020). The IUCN Red List of Threatened Species. Version 2021-1. Published on the Internet; http://www.iucnredlist.org/. Downloaded 24 August 2021.
Kerrigan, R. W. (2016). Agaricus of North America. Memoirs of the New York Botanical garden, Volume 114. New York, USA: New York Botanical Garden Press. 573 pp.
Kuo, M. (2018a). Agaricus campestris. Recuperado de the MushroomExpert.Com Web site: http://www.mushroomexpert.com/agaricus_campestris.html. Consultado el 25 de Julio de 2020.
Landinez-Torres, A., Panelli, S., Picco, A. M., Comandatore, F., Tosi, S., & Capelli, E. (2019) A meta-barcoding analysis of soil mycobiota of the upper Andean Colombian agro-environment. Scientific Reports, 9(1), 1–12. https://doi.org/10.1038/s41598-019-46485-1
MyCoPortal (2020). Mycology Collections data Portal. Recuperado de: http://mycoportal.org/portal/index.php. Consultado en Mayo- Diciembre 2020.
Nguyen, N.H., Song, Z., Bates, S.T., Branco, S., Tedersoo, L., Menke, J., Schilling, J.S. and Kennedy, P.G., 2016. FUNGuild: an open annotation tool for parsing fungal community datasets by ecological guild. Fungal Ecology, 20, pp.241-248.
Phillips, R. (2005) Mushrooms and other fungi of North America. Buffalo, Nueva York: Firefly Books. 319 p.
Pulido, M. (1983) Estudios en Agaricales Colombianos: Los hongos de Colombia IX. Bogotá, Colombia: Instituto de Ciencias Naturales, Museo de Historia Natural, Universidad Nacional de Colombia. 143 p.
Ruíz, A., & Henao, L. G. (2006). Hongos comestibles de Iguaque, Serie Especies Colombianas: 14. Bogotá, Colombia: Instituto de Investigación de Recursos Biológicos Alexander von Humboldt. 8 p.
The Global Fungal Red List Initiative (2020). Disponible en: http://iucn.ekoo.se/en/iucn/welcome. Consultado en Agosto 2020.
Other Data
Other Kew resources that provide information on this taxon:
Sources
Catalogue of Fungi of Colombia

© Copyright 2021 Useful Plants and Fungi of Colombia http://creativecommons.org/licenses/by/3.0
© Copyright 2021 Index Fungorum Partnership. http://creativecommons.org/licenses/by/3.0
https://creativecommons.org/licenses/by/4.0/
http://creativecommons.org/licenses/by-nc-sa/3.0