Coprinellus micaceus (Bull.) Vilgalys, Hopple & Jacq. Johnson
First published in Taxon, 50 (1): 234 (2001)
This species is accepted
This species is found in Europe, South America, North America, Australia and China. It is used to treat unspecified medicinal disorders and for food.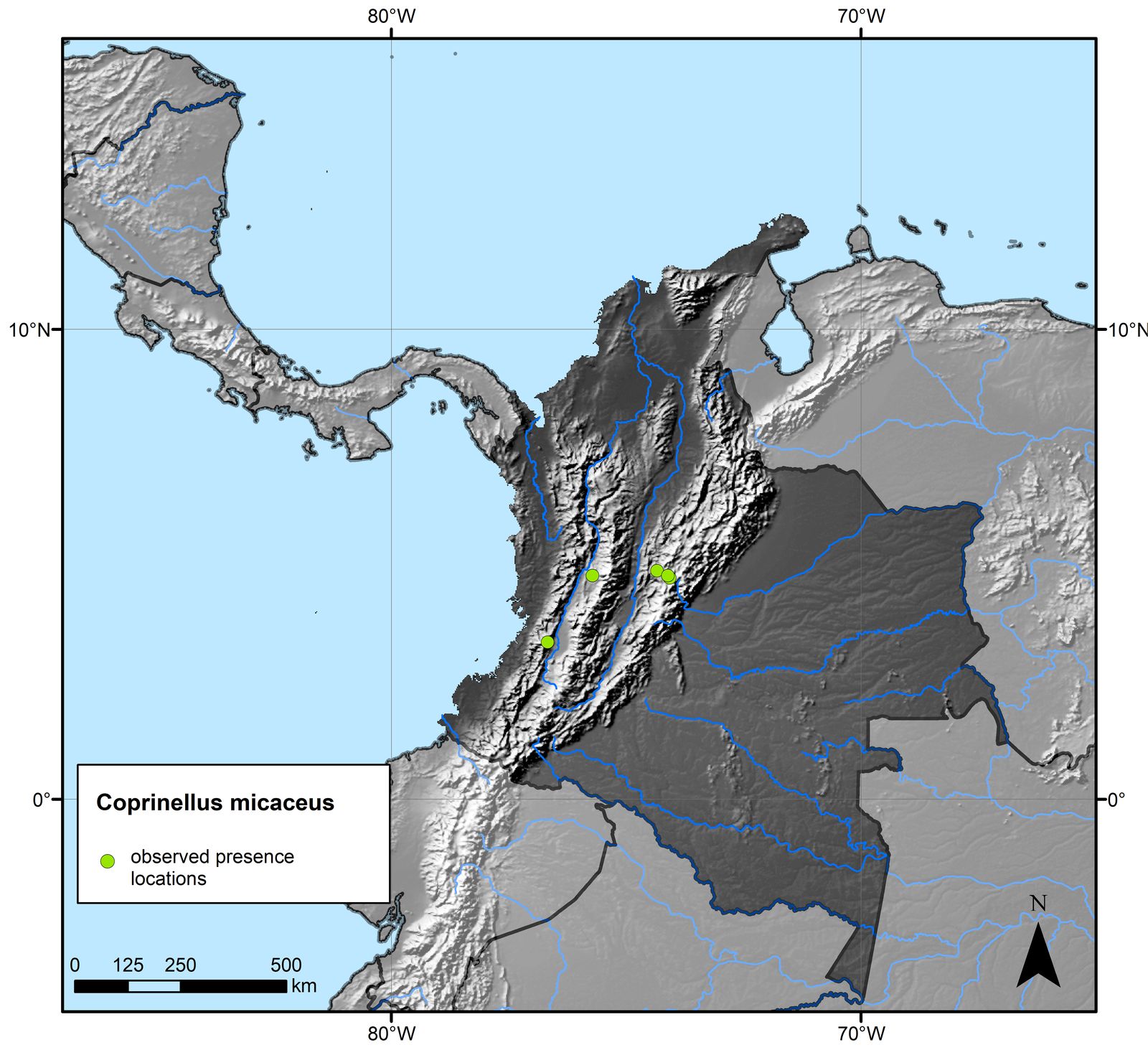 Descriptions
Morphology

Gregarious. Cespitose. Pileus: .5–3.5 cm diam., ovoid to parabolic when young and campanulate when mature; surface light brown-orange, striated on disc to yellow-brown towards margin with fine white granules; margin striated, curved. Context: pale yellow. Hymenophore: attached lamellae, crowded, white when young to blackish-brown when mature, with a grayish margin. Stipe: 2–7 cm long, central, uniform, surface smooth to fibrillose, silky, white to yellowish. Smell: of macerated plants. Taste: not distinctive. Spore print: brownish-black. Spores: subelipsoid, smooth, reddish brown.

Habit

Gregarious, cespitose.

Distribution

Global distribution. Altitude: 1700 – 2600 m a.s.l. Colombian departments: Cundinamarca, Valle del Cauca.

Ecology

Saprotroph. - Undefined saprotroph. Habitat/ecology: on lawns, along sidewalks; in riparian forest and paddock.
[CFC]
Uses
Use

Food

Mushrooms

Part used: Basidiome. Reported as edible in other countries. In Colombia there are no uses reported in this category.

Use

Medicines

Unspecified Medicinal Disorders

Part used: Basidiome. Used as medicinal in Hong Kong. In Colombia there are no uses reported in this category.
[CFC]
Sources
Catalogue of Fungi of Colombia

© Copyright 2021 Useful Plants and Fungi of Colombia http://creativecommons.org/licenses/by/3.0
© Copyright 2021 Index Fungorum Partnership. http://creativecommons.org/licenses/by/3.0
https://creativecommons.org/licenses/by/4.0/
http://creativecommons.org/licenses/by-nc-sa/3.0