Parasola plicatilis (Curtis) Redhead, Vilgalys & Hopple
First published in Taxon, 50 (1): 235 (2001)
This species is accepted
This species is found in Europe, Asia-Tropical, Africa, South America, North America, Australasia and Asia-Temperate.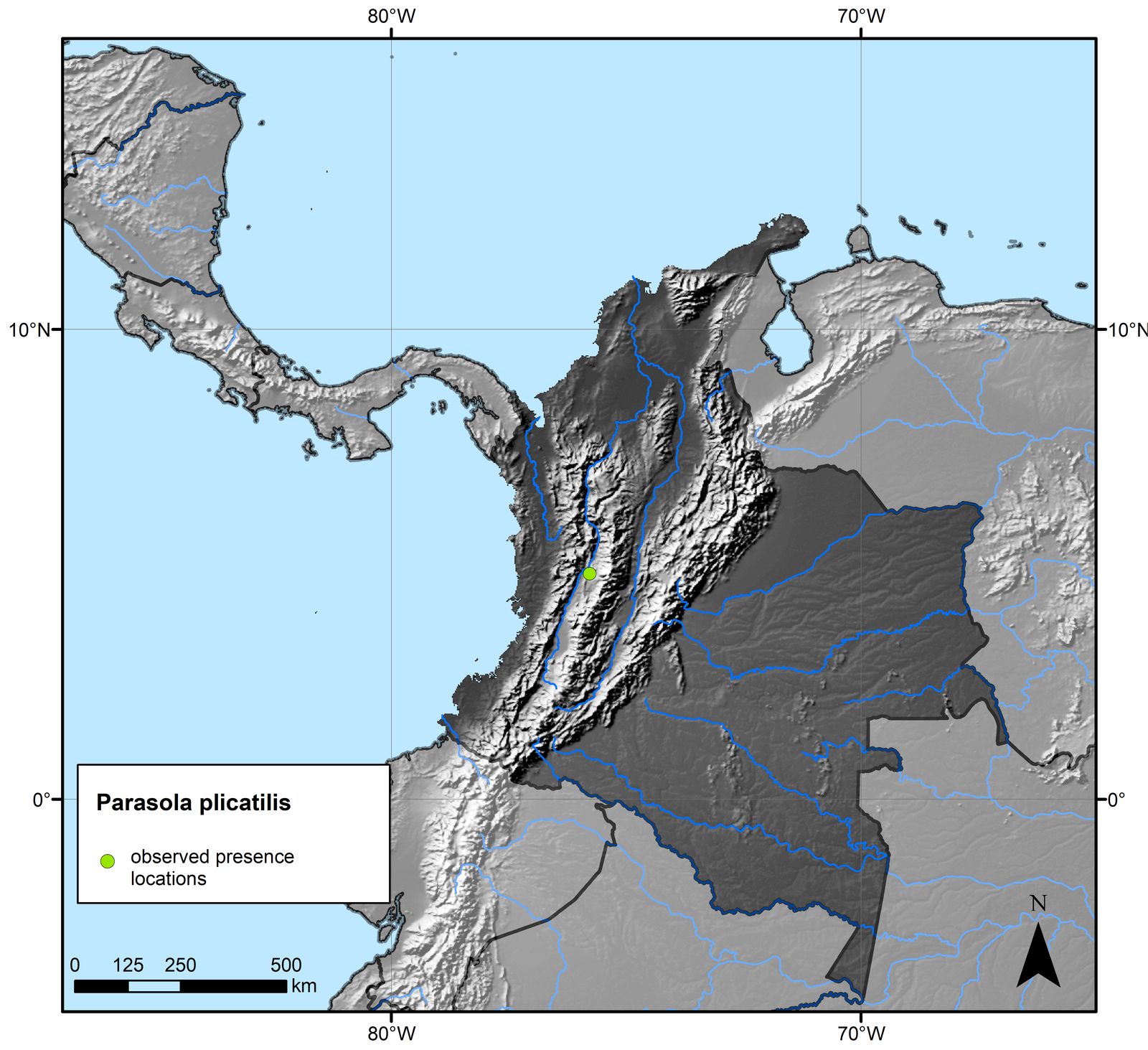 Distribution
Present in:
Australia, Austria, Belgium, Cape Provinces, China, Colombia, Czech Republic, Denmark, Eastern Canada, Ecuador, France, Free State, Germany, Great Britain, India, Iran, Ireland, Italy, Japan, KwaZulu-Natal, Laos, Mexico, Netherlands, New Zealand, North-Central U.S.A., Northeastern U.S.A., Northern Provinces, Northwestern U.S.A., Norway, Peninsular Malaysia, Philippines, Poland, Portugal, Serbia, Slovenia, South-Central U.S.A., Southeastern U.S.A., Southwestern U.S.A., Spain, Sweden, Switzerland, Taiwan, Thailand, Western Canada
Publications
Catalogue of Fungi of Colombia
Franco-Molano, A.E., Corrales, A., Vasco-Palacios, A. M. (2010) Macrohongos de Colombia II. Listado de especies de los ordenes Agaricales, Boletalles, Cantharelalles y Russulales (Agaricomycetes, Basidiocmycota). Actualidades Biológicas, 32, 89–113.
MyCoPortal (2020). Mycology Collections data Portal. Recuperado de: http://mycoportal.org/portal/index.php. Consultado en Mayo- Diciembre 2020.
Nguyen, N.H., Song, Z., Bates, S.T., Branco, S., Tedersoo, L., Menke, J., Schilling, J.S. and Kennedy, P.G., 2016. FUNGuild: an open annotation tool for parsing fungal community datasets by ecological guild. Fungal Ecology, 20, pp.241-248.
Pulido, M., & Boekhout, T. (1989) Distribution of Macrofungi Along the Parque Los Nevados Transect. Pp 485-505. En: Van der Hammen, T., Díaz Piedrahita, S., & Alvarez, V. (eds). La cordillera central Colombiana Transecto Parque Los Nevados. Studies on Tropical Andean Ecosystems, Vol 3.
Other Data
Other Kew resources that provide information on this taxon:
Sources
Catalogue of Fungi of Colombia

© Copyright 2021 Useful Plants and Fungi of Colombia http://creativecommons.org/licenses/by/3.0
© Copyright 2021 Index Fungorum Partnership. http://creativecommons.org/licenses/by/3.0
https://creativecommons.org/licenses/by/4.0/
http://creativecommons.org/licenses/by-nc-sa/3.0